Sunday, October 8, 2017:  A truck driver was hospitalized after an 18-wheeler hit a concrete barrier underneath a bridge on I-95 in Delray Beach.
Cleanup took hours and traffic was still backed up on southbound Interstate 95 for 2 hours..
The 18-wheeler hit a guardrail about 4 p.m., and the driver's cabin was crushed against the concrete supports of Atlantic Ave.  The truck driver was taken to the hospital in serious condition.
A Nissan coupe that was driving beside the semi was damaged, but the driver was reportedly not hospitalized.
Palm Beach Fire Rescue materials crews were called to clean up a fuel spill. The semi also spilled its cargo along the interstate.
All southbound lanes were closed, and traffic was being diverted to the service road.  If you are traveling southbound avoid I-95 and try to use Congress, Military Trail or the Florida Turnpike.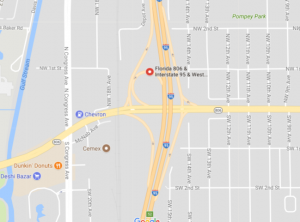 The accident is still under investigation and this story will be updated as more details are supplied by Florida Highway Patrol.
Attorney Jason Weisser of Shuler, Halvorson, Weisser, Zoeller and Overbeck responded about the crash.  "Unfortunately, lives have been lost in a tragic accident today.   Hopefully there wasn't other factors that caused this deadly crash.    It is a tragedy any time there is a loss of life from a motorcycle, car or truck accident".
Jason Weisser is a personal injury attorney specializing in all types auto and motorcycle accidents.  For more information and to find out what rights you have contact him at Shuler, Halvorson, Weisser, Zoeller and Overbeck.  He is Board Certified by the Florida Bar as a Civil Trial Lawyer.  Mr. Weisser is actively involved in Civil Trial Litigation specializing in wrongful death from Traffic Accidents.  He also is an expert on Medical Malpractice, Class Action litigation, Trucking Accidents, Maritime Actions, Products Liability, Consumer Law and Motor Vehicle Accidents. https://www.shw-law.com/attorneys/jason-d-weisser/