David Crowell of Stuart collided with Jacquelyn Durham of Boyton Beach.  Mr. Crowell didn't have any injuries but Ms. Durham died shortly after the crash.
Monday, October 16, 2017:  Jaquelyn Duram was driving her 2006 Mercury southbound on S 14th Street, approaching Hypoluxo Road.   David Crowell, along with two passengers were traveling westbound on Hypoluxo Road, approaching S 14th St/Seacret Blvd.  Both vehicles entered the intersection at the same time, which resulted in a violent collision between the two cars.  At this time it is unclear what color the traffic lights were at the time of the crash.  All of the people involved in the crash were transported to Delray Medical
Center, where Ms. Duram died a short time after the crash.  Palm Beach Fire Rescue attended to the injured and helped clear the scene.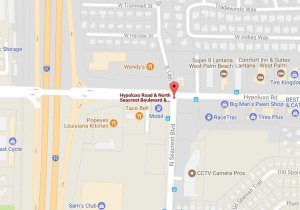 Palm Beach Sheriff Deputies responded to the scene and are conducting a full investigation.  They are encouraging any witnesses to this serious accident to contact the Sheriff's office to give any details.
Attorney Jason Weisser of Shuler, Halvorson, Weisser, Zoeller and Overbeck responded about the crash.  "It is a tragedy to lose a life in an auto accident.  Please observe all traffic signals especially when crossing an intersection.   If you were involved in an accident please contact my office for a free consultation".
Jason Weisser is a personal injury attorney specializing in all types auto and motorcycle accidents.  For more information and to find out what rights you have contact him at Shuler, Halvorson, Weisser, Zoeller and Overbeck.  He is Board Certified by the Florida Bar as a Civil Trial Lawyer.  Mr. Weisser is actively involved in Civil Trial Litigation specializing in wrongful death from Traffic Accidents.  He also is an expert on Medical Malpractice, Class Action litigation, Trucking Accidents, Maritime Actions, Products Liability, Consumer Law and Motor Vehicle Accidents. https://www.shw-law.com/attorneys/jason-d-weisser/