The accident happened early morning on Garden Road, which runs south to Martin Luther King Jr. Boulevard to just south of Northlake Boulevard.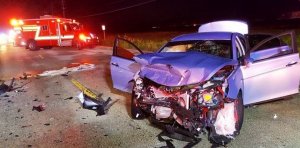 Garden Road is shut down to clean up the accident so take U.S. 1 or Congress as your alternative routes.
At this time it is unclear how many were injured but stay with Traffic Center for more updates on this breaking story.
Attorney Jason Weisser of Shuler, Halvorson, Weisser, Zoeller and Overbeck wants to you to be aware of and to keep our first responders to the scene safe.  "If you see an accident up ahead on the road, as soon is its safe, move over to the lanes away from the accident.  This and distracted driver are two important issues that we all must pay attention to."
Jason Weisser is a personal injury attorney specializing in all types auto and motorcycle accidents.  For more information and to find out what rights you have, contact him at Shuler, Halvorson, Weisser, Zoeller and Overbeck.  He is Board Certified by the Florida Bar as a Civil Trial Lawyer.  Mr. Weisser is actively involved in Civil Trial Litigation specializing in wrongful death from Traffic Accidents.  He also is an expert on Medical Malpractice, Class Action litigation, Trucking Accidents, Maritime Actions, Products Liability, Consumer Law and Motor Vehicle Accidents.
Previous Stories From Traffic Center
Stolen Car Leaves 3 Dead
Jacquelyn Durham Died in Violent Collision on Hypoluxo Road in Lantana
92,000 Hit and Run Accidents Each Year in Florida – How to Prevent One To You
Crash With Injuries In Lantana, Florida. Two People Rushed To Trauma Hospital
Car Crash With Two Adults Hurt in Delray Beach, Florida
Be Safe While You Are Driving – How To Prevent Or Survive A CarJacking