An unidentified man was killed early Friday after being hit by a cement truck on Lake Worth Road, the Palm Beach County Sheriff's Office and Greenacres Fire Rescue authorities said.
Fire Rescue authorities said that the man is approximately 30 years old
Westbound traffic on Lake Worth Road is blocked in front of the Target store during morning rush hour and the sheriff's office does not know at this time when it will be reopened.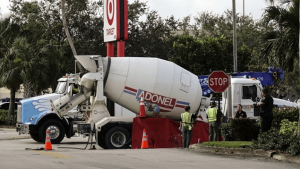 The cement truck driven by Jose Troyano was traveling westbound on Lake Worth Rd. in the outside lane.  The unidentified pedestrian was walking southbound north of the roadway.  As the cement truck began to pass the pedestrian, he ran into the passenger side of the cement truck.  This caused the rear tires of the cement truck to strike the left side of pedestrian.  Mr. Troyano applied the brakes and came to a stop.  The pedestrian was trapped under the rear passenger side tires of cement truck.
The pedestrian has not been identified and was unfortunately pronounced dead on scene.
Authorities are asking if you know who this man could be to please call the Palm Beach Sheriff's office.
Attorney Jason Weisser of Shuler, Halvorson, Weisser, Zoeller and Overbeck responded about the crash.  "Cases involving accidents with commercial trucks are always subject to heightened scrutiny because of the additional regulations placed on drivers of those vehicles. Unfortunately in our practice,  we have seen numerous instances where drivers blatantly violate these regulations, which results in catastrophic consequences.".
Jason Weisser is a personal injury attorney specializing in all types auto and motorcycle accidents.  For more information and to find out what rights you have contact him at Shuler, Halvorson, Weisser, Zoeller and Overbeck.  He is Board Certified by the Florida Bar as a Civil Trial Lawyer.  Mr. Weisser is actively involved in Civil Trial Litigation specializing in wrongful death from Traffic Accidents.  He also is an expert on Medical Malpractice, Class Action litigation, Trucking Accidents, Maritime Actions, Products Liability, Consumer Law and Motor Vehicle Accidents. https://www.shw-law.com/attorneys/jason-d-weisser/