Emergency responders were called to a serious motor vehicle accident involving three vehicles near downtown West Palm Beach today.   A child was ejected from one of the vehicles and rushed to a nearby hospital by police.
Thursday, October 26, 2017:  The accident happened at the intersection of Clematis Street and South Olive Avenue.  A man who works at Rocco's Taco's close to where the accident occured he heard a loud crash. He turned around to see his car coming towards him due to the force of the collision.
A blue car and a gold SUV, crashed at the intersection. A baby traveling in the SUV was not in a car seat and was ejected from the vehicle during the crash.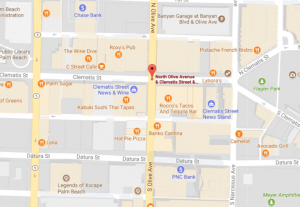 Witnesses working in the area said police responded to the accident quickly. They saw police pull the baby from beneath the SUV.
The baby was not breathing, according to a source, so officers began CPR and rushed the baby in a police cruiser to a nearby hospital.
At last check, the baby was in critical and stable condition.
No word if any charges will be issued in this incident.
Attorney Jason Weisser of Shuler, Halvorson, Weisser, Zoeller and Overbeck responded to this accident:   "It is a tragedy when a child is hurt in an auto accident.  Please always be safe and have all children secure in a child's safety seat.  If you were injured in an accident and want to discuss your rights, please contact my office for a free consolation".
Jason Weisser is a personal injury attorney specializing in all types auto and motorcycle accidents.  For more information and to find out what rights you have contact him at Shuler, Halvorson, Weisser, Zoeller and Overbeck.  He is Board Certified by the Florida Bar as a Civil Trial Lawyer.  Mr. Weisser is actively involved in Civil Trial Litigation specializing in wrongful death from Traffic Accidents.  He also is an expert on Medical Malpractice, Class Action litigation, Trucking Accidents, Maritime Actions, Products Liability, Consumer Law and Motor Vehicle Accidents. https://www.shw-law.com/attorneys/jason-d-weisser/