A driver and two passengers were believed to be speeding when they lost control and struck a tree in in Pembroke Pines.
According to Pembroke Pines Police, the three teens were heading on Dykes Road close to  Southwest Fifth Street when the one teen driver lost control.  The car then went across the median and ran directly into a tree.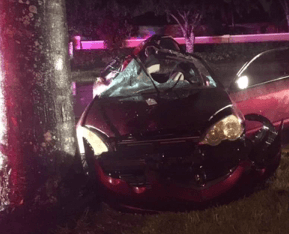 Witnesses and photographs from the scene show that the car was extremely damaged in the accident and all three were injured.
Rescue workers transported the teens to Memorial Regional Hospital. One of the teens has life-threatening injuries and the two others have serious injuries.
Pembroke Pines Police had to shut down Dykes Road northbound for many hours while they investigated and then removed the crashed car from the accident scene.
At this time the investigators believe a mix of drugs, alcohol and speed could have contributed to the crash.
Attorney Jason Weisser of Shuler, Halvorson, Weisser, Zoeller and Overbeck responded to this accident:   "It is a tragedy when teens are injured in an accident.   Please never drink or do drugs and drive and make sure if you are a parent you do your best to monitor your children's activity.  If you were injured in an accident and want to discuss your rights, lease contact my office for a free consolation".
Jason Weisser is a personal injury attorney specializing in all types auto and motorcycle accidents.  For more information and to find out what rights you have contact him at Shuler, Halvorson, Weisser, Zoeller and Overbeck.  He is Board Certified by the Florida Bar as a Civil Trial Lawyer.  Mr. Weisser is actively involved in Civil Trial Litigation specializing in wrongful death from Traffic Accidents.  He also is an expert on Medical Malpractice, Class Action litigation, Trucking Accidents, Maritime Actions, Products Liability, Consumer Law and Motor Vehicle Accidents. https://www.shw-law.com/attorneys/jason-d-weisser/