One person is dead after a Friday morning motorcycle crash in downtown Fort Lauderdale.
The crash happened today near Broward Boulevard and Southwest Third Avenue.  This is a very busy road that connects I-95 to Downtown Fort Lauderdale and the Las Olas section of Fort Lauderdale.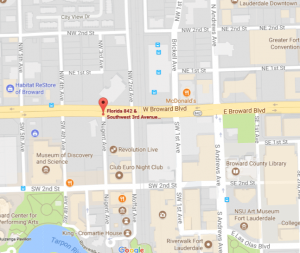 "Investigators are still actively gathering information as to the circumstances surrounding this traffic crash," said police spokeswoman Tracy Figone.
How the crash happened and the identity of the person killed as not been released.
Avoid Broward Blvd for the rest of today and use Sunrise or Davie Blvds as your alternate routes.
Attorney Jason Weisser of Shuler, Halvorson, Weisser, Zoeller and Overbeck responded to this accident:   "It is a tragedy when anyone is killed or injured in a motorcycle accident.  We don't know the reason for the crash at this time but we hope it wasn't caused by distracted driving.   If you were injured in an accident and want to discuss your rights, please contact my office for a free consolation".
Jason Weisser is a personal injury attorney specializing in all types auto and motorcycle accidents.  For more information and to find out what rights you have contact him at Shuler, Halvorson, Weisser, Zoeller and Overbeck.  He is Board Certified by the Florida Bar as a Civil Trial Lawyer.  Mr. Weisser is actively involved in Civil Trial Litigation specializing in wrongful death from Traffic Accidents.  He also is an expert on Medical Malpractice, Class Action litigation, Trucking Accidents, Maritime Actions, Products Liability, Consumer Law and Motor Vehicle Accidents. https://www.shw-law.com/attorneys/jason-d-weisser/