Hit and Run accidents a huge problem in the state of Florida.  Here are some statistics and what you can do to prevent one from happening to you.
In 2015, there were more than 92,000 hit and run crashes in Florida.  Of these they resulted in over 19,000 injuries.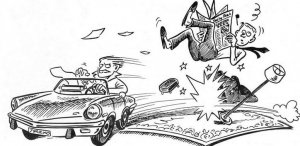 Each year the percent of hit and run crashes stays steady, which means the problem of people fleeing the scene isn't getting better.
There were more than 19,000 injuries resulting from hit and run crashes, with over 1,200 of those involving serious bodily injury.
Vulnerable road users are particularly at risk. In fact, there were 186 hit and run fatalities in 2015, over half of which were pedestrians.
Approximately one out of every four pedestrian crashes resulted in the driver leaving the scene.
Under Florida law, a driver MUST stop immediately at the scene of a crash on public or private property which results in injury or death.
More than

80 percent

of hit and run crashes result in property damage only.
If a driver flees the scene, the situation becomes even worse. Leaving the scene of a crash is a

felony

and a driver, when convicted, will have their license revoked for at least three years and can be sentenced to a mandatory minimum of four years in prison.
In 2015, 18-27 year olds received over

a third of all hit and run citations

issued,

70 percent

of which were written for males.
The most important thing a driver can do when they are involved in a crash is to remain at the scene and call for help. Staying at the scene will not only spare a driver significant legal penalties, but may

save a life.
If you are involved in a hit and run accident
As hard as it may be, staying calm if you are a victim of a hit and run accident greatly increases your chances of gathering viable information that can be used to find the person responsible. It is important to seek medical attention immediately if you are injured, but if possible, try to take down the following info:
Make, model, and license plate number of the car that hit you
Contact information of any potential witnesses to the accident
If you can, use your phone to take pictures of the scene
Take pictures of the damage to your own vehicle, and try to capture specific details (i.e. paint from the car that hit you).
Attorney Jason Weisser of Shuler, Halvorson, Weisser, Zoeller and Overbeck responded about the crash.  ""A Hit-and-run is one of the worst type of accidents.  When that person that fled the scene is caught you have rights that are different then in a regular car crash.  Make sure you speak to a licensed professional about your rights".
Jason Weisser is a personal injury attorney specializing in all types auto and motorcycle accidents.  For more information and to find out what rights you have contact him at Shuler, Halvorson, Weisser, Zoeller and Overbeck.  He is Board Certified by the Florida Bar as a Civil Trial Lawyer.  Mr. Weisser is actively involved in Civil Trial Litigation specializing in wrongful death from Traffic Accidents.  He also is an expert on Medical Malpractice, Class Action litigation, Trucking Accidents, Maritime Actions, Products Liability, Consumer Law and Motor Vehicle Accidents. https://www.shw-law.com/attorneys/jason-d-weisser/