A 12-year-old-boy was seriously hurt after a vehicle struck him in Port St. Lucie, according to police.  Jason Weisser, Personal Injury Attorney Comments.
October 10, 2017:  It happened on the busy 700 block of SW St. Lucie West Boulevard.  Police said the vehicle was leaving a Home Depot Parking lot when it collided with the boy who was heading west on SW St. Lucie West Blvd.  This is a very busy section of St. Lucie West Boulevard betweenthe Lowes and the Home Depot and there have been many accidents in this location.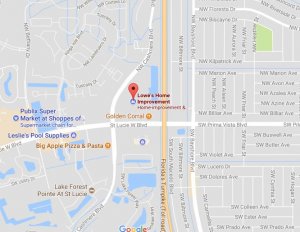 The child suffered a fractured pelvis and other minor injures, police said.
Police did not identify the child or Man.  Traffic Center will keep updating this story as new information is released from the Port St. Lucie Police Department.
This is the third bicyclist that was hit by a car in the last 24 hours in South Florida.
Man Hit While Riding Bicycle in Palm Beach County
Bicyclist Hit By Car and Injured In Jupiter
Attorney Jason Weisser of Shuler, Halvorson, Weisser, Zoeller and Overbeck responded about the crash.  "That is a very busy intersections and drivers need to pay extra attention for pedestrians and bicyclists in that area.  Please be careful whenever there are bicyclist sharing the road with you as a vehicle driver.  Those on bicycles have rights to the road also.  Let my many years of fighting for the injured help you through this difficult time.  Call for a free consultation".
Jason Weisser is a personal injury attorney specializing in all types auto and motorcycle accidents.  For more information and to find out what rights you have contact him at Shuler, Halvorson, Weisser, Zoeller and Overbeck.  He is Board Certified by the Florida Bar as a Civil Trial Lawyer.  Mr. Weisser is actively involved in Civil Trial Litigation specializing in wrongful death from Traffic Accidents.  He also is an expert on Medical Malpractice, Class Action litigation, Trucking Accidents, Maritime Actions, Products Liability, Consumer Law and Motor Vehicle Accidents. https://www.shw-law.com/attorneys/jason-d-weisser/