South Bound Turnpike in Fort Lauderdale Collision with Left Lane Closed.
Monday, October 2, 2017:   If you are traveling south on the Florida Turnpike through Fort Lauderdale be aware of a crash at mile marker 62  The left lane is closed  just south of Commercial Blvd. and traffic has backed up for over 1 mile.   Florida Highway patrol is on the scene of this accident along with first responder medical personal to treat the injured.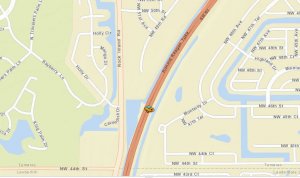 Attorney Jason Weisser of Shuler, Halvorson, Weisser, Zoeller and Overbeck responded about the crash.
  "If you are involved in a motor vehicle accident, especially when it was not your fault, you should seek legal council to find out what rights you have.  I've helped 100's of accident victims and their families through this difficult process and would like to help you."
Elsewhere in Fort Lauderadale, The Fort Lauderdale Police Department, in conjunction with Mt. Olivet Seventh-day Adventist Church is proud to host a gun buyback event on Sunday, October 8th from 11:00 A.M until 2:00 P.M.
The event will take place at Mt. Olivet Seventh-day Adventist Church located at 649 Northwest 15th Way in the City of Fort Lauderdale. Anyone interested in turning in a firearm at this event can do so without questions being asked.
Depending on the condition of the firearm, individuals participating in the gun buyback will receive a monetary amount between $25.00 and $75.00 in Target gift cards.
Jason Weisser is a personal injury attorney specializing in all types auto and motorcycle accidents and other injuries.  For more information and to find out what rights you have contact him at Shuler, Halvorson, Weisser, Zoeller and Overbeck.  He is Board Certified by the Florida Bar as a Civil Trial Lawyer.  Mr. Weisser is actively involved in Civil Trial Litigation specializing in wrongful death from Traffic Accidents.  He also is an expert on Medical Malpractice, Class Action litigation, Trucking Accidents, Maritime Actions, Products Liability, Consumer Law and Motor Vehicle Accidents. https://www.shw-law.com/attorneys/jason-d-weisser/