ISS Facility Services has mad the announcement that emergency repairs are needed on the swing bridge on Southwest 11th Avenue.
The bridge and road will be closed for one month and scheduled to open on December 1, 2017.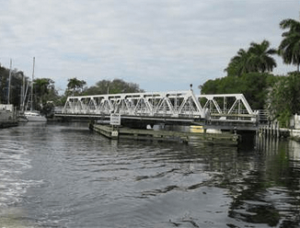 A notice about the closure was issued late Monday.  Mario Camacho, a representative of ISS Facility Services, the city's maintenance contractor for the bridge, said a mechanized piece of equipment needs to be replaced.
"There is a problem with the lock. Might be from the weight of lots of trucks," Camacho said Tuesday morning.
The lock motor is the mechanism that keeps the bridge locked in the closed position when vehicles cross, city officials said.
The motor needs to be custom-built and the city is currently contacting vendors to determine which one can do the work.
The Snow-Reed Swing Bridge, named after the two Fort Lauderdale mayors who held office when it was built, is about 100 feet long and spans the North Fork of the New River at Southwest 11th Avenue.
It is one of the oldest bridges in Broward County. It opened in 1925 and connects two neighborhoods, Sailboat Bend and Riverside Park.
The bridge was closed for about a year for a major renovation that was completed in 2010.
When driving in Ft. Lauderdale please make sure you take an alternate route around the bridges on SW 11th Avenue.
Attorney Jason Weisser of Shuler, Halvorson, Weisser, Zoeller and Overbeck comments this bridge closure:   "This is one of our areas iconic bridges.  We hope that it doesn't cause too many traffic delays while it's being repaired".
Jason Weisser is a personal injury attorney specializing in all types auto and motorcycle accidents.  For more information and to find out what rights you have contact him at Shuler, Halvorson, Weisser, Zoeller and Overbeck.  He is Board Certified by the Florida Bar as a Civil Trial Lawyer.  Mr. Weisser is actively involved in Civil Trial Litigation specializing in wrongful death from Traffic Accidents.  He also is an expert on Medical Malpractice, Class Action litigation, Trucking Accidents, Maritime Actions, Products Liability, Consumer Law and Motor Vehicle Accidents. https://www.shw-law.com/attorneys/jason-d-weisser/