Jason Weisser, Personal Injury Attorney comments on this tragic truck accident when vehicle hits a tree in Stuart.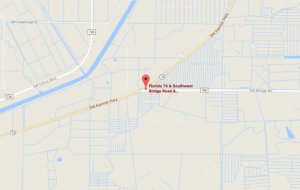 Wednesday, October 4, 2017:  Gustavo Velasquez, age 24 was traveling eastbound on State Road 76 (SW Kanner Hwy) east of County Road 708 (SW Bridge Road) and began to negotiate a left curve in the roadway. Mr. Velasquez accident occurred when he drove off the south shoulder of the roadway while attempting to negotiate a left curve in the roadway.  His truck struck two road signs and a standing tree with the left side of his Chevy S-10 pickup.
The truck came to final stop on the southern grass shoulder up against the tree facing southeast. Gustavo Velasquez, from Canal Point Florida, was entrapped inside his truck and was pronounced deceased on scene. The cause of this crash remains under investigation.
Florida Highway Patrol responded to the scene and took control of the accident scene.  Two lanes were shut down for over 2 hours while the investigation was preformed and the truck was towed away.  Martin County Fire Rescue was called to the scene but was unsuccessful in trying to revive Mr. Velasquez.
Attorney Jason Weisser of Shuler, Halvorson, Weisser, Zoeller and Overbeck responded about the crash.  "It is a tragedy any time there is a loss of life from a truck accident.  People can easily be distracted when driving at any time.  Please be careful whenever you are behind the wheel of a car, truck or motorcycle".
Jason Weisser is a personal injury attorney specializing in all types auto and motorcycle accidents.  For more information and to find out what rights you have contact him at Shuler, Halvorson, Weisser, Zoeller and Overbeck.  He is Board Certified by the Florida Bar as a Civil Trial Lawyer.  Mr. Weisser is actively involved in Civil Trial Litigation specializing in wrongful death from Traffic Accidents.  He also is an expert on Medical Malpractice, Class Action litigation, Trucking Accidents, Maritime Actions, Products Liability, Consumer Law and Motor Vehicle Accidents. https://www.shw-law.com/attorneys/jason-d-weisser/