Personal Injury Lawyer Jason Weisser of Schuler, Halvorson, Weisser, Zoeller and Overbrook Comments.
Wednesday, October 11, 2017:  A two car accident with injuries has the left lane northbound shutdown.  Traffic is backed up to 595 at this time.  This is the stretch of highway that is just past the Sawgrass Mills Mall and the Panthers Arena.
Please try and take Flamingo Road or Hiatus Roads as your alternate routes.  Florida Highway Patrol is on the scene.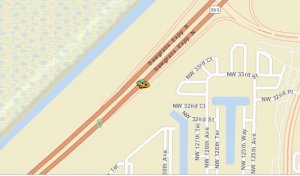 Attorney Jason Weisser of Shuler, Halvorson, Weisser, Zoeller and Overbeck responded about the crash.  "Whenever you are behind the wheel of a car, please make sure you are not being distracted by texting, talking on your phone or communicating with your passengers.  If you are in an accident where someone didn't follow the posted signs or signals, please call me so that we can discuss your rights. ".
Jason Weisser is a personal injury attorney specializing in all types auto and motorcycle accidents.  For more information and to find out what rights you have contact him at Shuler, Halvorson, Weisser, Zoeller and Overbeck.  He is Board Certified by the Florida Bar as a Civil Trial Lawyer.  Mr. Weisser is actively involved in Civil Trial Litigation specializing in wrongful death from Traffic Accidents.  He also is an expert on Medical Malpractice, Class Action litigation, Trucking Accidents, Maritime Actions, Products Liability, Consumer Law and Motor Vehicle Accidents. https://www.shw-law.com/attorneys/jason-d-weisser/