Attorney Jason Weisser Comments about I-95 Northbound Lanes are Blocked
Friday, September 29, 2017:  Interstate 95 is blocked by this major northbound accident.  The accident involves 3 vehicles that are blocking all lanes.  Florida Highway Patrol and PBC Fire Rescue are both on the scene.  The tow trucks have just arrived to try and clear the road so Friday afternoon commuters, and those trying to get out of town for the weekend, can get moving again.  Expect I-95 to be shut down for the next hour.   Please take the Florida Turnpike or Military Trail.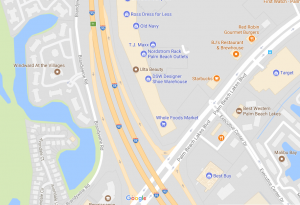 This areas traffic congestion has significantly increased in the last four years since the Palm Beach Outlet Mall has opened.  The outlet stores draw large crowds along with those going to Whole Foods, Target and Home Depot.
Attorney Jason Weisser of Shuler, Halvorson, Weisser, Zoeller and Overbeck responded about the crash.  "The chances of getting into an accident are at their highest on Friday afternoons.  People are anxious to get where they are going to start the weekend and are often distracted.  If you are involved in a motor vehicle accident, especially when it was not your fault, you should seek legal council to find out what rights you have.  I've helped 100's of accident victims through this difficult process and would like to help you."
Jason Weisser is a personal injury attorney specializing in all types auto and motorcycle accidents.  For more information and to find out what rights you have contact him at Shuler, Halvorson, Weisser, Zoeller and Overbeck.  He is Board Certified by the Florida Bar as a Civil Trial Lawyer.  Mr. Weisser is actively involved in Civil Trial Litigation specializing in wrongful death from Traffic Accidents.  He also is an expert on Medical Malpractice, Class Action litigation, Trucking Accidents, Maritime Actions, Products Liability, Consumer Law and Motor Vehicle Accidents. https://www.shw-law.com/attorneys/jason-d-weisser/