Wearing your seat belt is very important prevent an injury in a car, truck or motorcycle accident.
Tuesday, October 3, 2017:  From 2011 to 2015, an estimated 343,000 children ages 8-14 were injured while traveling in passenger vehicles, and an additional 1,692 children were killed. A full 50% of those who died were unrestrained at the time of the crash.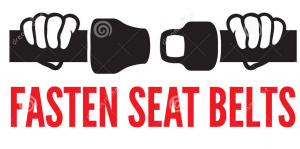 The Seat Belt Safety campaign pulls from the insight that as a parent, sometimes you have to let your kids have their way. But your kid's safety should never be up for negotiation, no matter how much they push back on the seat belts being uncomfortable,unnecessary for just a "short drive" or any other excuses. The campaign utilizes the concept that "life as a parent is full of compromises, but seat belt safety for my children is not up for negotiation."
Seat belts save lives every day. They can only save lives, however, if they're used, and there are still many people in America who don't buckle up. Wearing a seat belt can reduce the risk of a fatal injury by 45%. This is why your community needs to know that wearing a seat belt can make the difference between life and death.
Never give up, until they buckle up.
Attorney Jason Weisser of Shuler, Halvorson, Weisser, Zoeller and Overbeck responded wearing seat belts.  "The more you drive the higher the chance that you will have of getting into a car, truck or motorcycle accident.  Please make sure all of your passengers are buckled up and don't forget about yourself.  It's proven - you have a better chance of not getting seriously injured or even killed - if you always wear your seat belt.
Jason Weisser is a personal injury attorney specializing in all types auto and motorcycle accidents.  For more information and to find out what rights you have contact him at Shuler, Halvorson, Weisser, Zoeller and Overbeck.  He is Board Certified by the Florida Bar as a Civil Trial Lawyer.  Mr. Weisser is actively involved in Civil Trial Litigation specializing in wrongful death from Traffic Accidents.  He also is an expert on Medical Malpractice, Class Action litigation, Trucking Accidents, Maritime Actions, Products Liability, Consumer Law and Motor Vehicle Accidents. https://www.shw-law.com/attorneys/jason-d-weisser/