On State Road 70 today John Julian Crawn ran into a stopped dump truck driven by Joseph Allen Matheny.  Mr. Crawn was injured in the crash and is in critical condition.
Thursday, October 26, 2017:  At the intersection of State Road 70 and State Road 710 there was a serious crash today.  Mr. John Julian Crawn, 48, 0f Okeechobee, Florida failed to stop at the intersection and ran into the back of a dump truck.  The dump truck was driven by Joseph Allen Matheny, 39, also of Okeechobee.
The extent of Mr. Crawn's injuries are not know at this time but he was airlifted to Lawnwood Regional Medical Center and is now in critical condition.
This is a busy intersection in Okeechobee County that has The New Testament Baptist Church on one side of the road and Godwin Auto Sales on the other.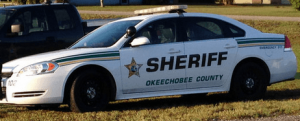 Traffic is backed up in both directions and Florida Highway Patrol and Okeechobee County Sheriff are advising motorists to avoid the area and seek an alternate route.
Attorney Jason Weisser of Shuler, Halvorson, Weisser, Zoeller and Overbeck responded to this accident:   "It is a tragedy when anyone is injured in an auto accident.  We don't know the reason for the crash at this time but we hope it wasn't caused by distracted driving.   If you were injured in an accident and want to discuss your rights, please contact my office for a free consolation".
Jason Weisser is a personal injury attorney specializing in all types auto and motorcycle accidents.  For more information and to find out what rights you have contact him at Shuler, Halvorson, Weisser, Zoeller and Overbeck.  He is Board Certified by the Florida Bar as a Civil Trial Lawyer.  Mr. Weisser is actively involved in Civil Trial Litigation specializing in wrongful death from Traffic Accidents.  He also is an expert on Medical Malpractice, Class Action litigation, Trucking Accidents, Maritime Actions, Products Liability, Consumer Law and Motor Vehicle Accidents. https://www.shw-law.com/attorneys/jason-d-weisser/