Westbound Lanes Closed on 167th Street because of serious accident with injures
Saturday, October 14, 2017:  The North Miami Police are investigating an overnight crash that caused a Lamborghini to split in half and catch on fire.
It all happened along the westbound lanes of Northeast 167th Street and Third Court, just before 2 a.m., Friday.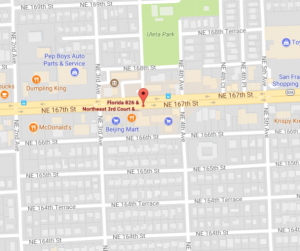 As a result, all westbound lanes on 167th Street were shut down between Northeast Fifth Avenue and Miami Avenue. The scene has since cleared and the roads have reopened.
According to North Miami Beach Police, there were two individuals inside the car who suffered minor injuries. They were both transported to a nearby hospital and are expected to be OK.
Pedro Huamchumo, who works at a gas station across the street, shot cellphone video of the aftermath; flames could be seen billowing into the air. "He crashed from the tree and the car was in two pieces," he said, "very scary."
The back end of the car was left in the middle of the road, while the front end was flung into the parking lot of a nearby plaza. Two tow trucks were needed to haul the sports car away.
A Chrysler sedan that was parked in the lot near the scene of the crash also suffered burn damage. The flames also consumed shrubbery around a nearby palm tree that snapped and toppled into the middle of the street as a result of the impact.
Another eyewitness captured the moment an officer helped take a man out of the car before flames trapped him inside.
However, the man was seen attempting to leave the scene before police stopped him.
Huamchumo said he couldn't believe what he saw. "Was like a 'boom'," he said. "When I looked at my side, I saw the car on fire and in two pieces. I saw the guy get out from the car with fire in all this arm and the legs, and he turned on the floor, and he was screaming. The people call the police and the gas station."
Attorney Jason Weisser of Shuler, Halvorson, Weisser, Zoeller and Overbeck responded about the crash.  "Whenever you are behind the wheel of a car, please make sure you are not being distracted by texting, talking on your phone or communicating with your passengers".
Jason Weisser is a personal injury attorney specializing in all types auto and motorcycle accidents.  For more information and to find out what rights you have contact him at Shuler, Halvorson, Weisser, Zoeller and Overbeck.  He is Board Certified by the Florida Bar as a Civil Trial Lawyer.  Mr. Weisser is actively involved in Civil Trial Litigation specializing in wrongful death from Traffic Accidents.  He also is an expert on Medical Malpractice, Class Action litigation, Trucking Accidents, Maritime Actions, Products Liability, Consumer Law and Motor Vehicle Accidents. https://www.shw-law.com/attorneys/jason-d-weisser/