Multiple car accident in Coconut Grove shuts down US One.  Charges are pending for Lynn Taylor.
Thursday, October 5, 2017:  One person is under arrest for operating under the influence in connection with a deadly crash involving multiple vehicles on US Highway One in Coconut Grove.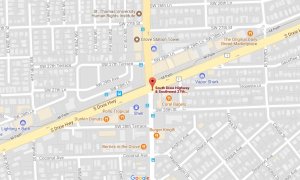 Miami-Dade Police Department identified the driver as Lynn Taylor, 50, of Miami. She is charged with operating under the influence of drugs, leaving the scene of a crash that caused personal injury and death, negligent operation, and marked lanes violation.
Police say Taylor was driving erratically. Then she hit the red Subaru, forcing it to go towards oncoming traffic. The motorcycle rider hit the Subaru, flew over the Subaru, then under another car.
They said Taylor was under the influence of narcotics at the time of the crash.
Taylor's driving record shows that she has previous DUI arrests and license suspensions.
Miami-Dade Police said Taylor did not stop, and kept driving up I-95, reportedly driving erratically according to other drivers.
A Florida Highway Patrol trooper finally took her into custody when she stopped near the Broward County Line.
Attorney Jason Weisser of Shuler, Halvorson, Weisser, Zoeller and Overbeck responded about the crash.  "Unfortunately, lives have been lost because of her Reckless Behavior.  As a former prosecutor in Miami I'm sure that she will be looking at significant prison time for these unnecessary deaths.  It is a tragedy any time there is a loss of life from a car accident".
Jason Weisser is a personal injury attorney specializing in all types auto and motorcycle accidents.  For more information and to find out what rights you have contact him at Shuler, Halvorson, Weisser, Zoeller and Overbeck.  He is Board Certified by the Florida Bar as a Civil Trial Lawyer.  Mr. Weisser is actively involved in Civil Trial Litigation specializing in wrongful death from Traffic Accidents.  He also is an expert on Medical Malpractice, Class Action litigation, Trucking Accidents, Maritime Actions, Products Liability, Consumer Law and Motor Vehicle Accidents. https://www.shw-law.com/attorneys/jason-d-weisser/