Distracted driving is anything that takes your hands off the wheel, your eyes off the road or mind off driving.
Wednesday, October 4, 2017:  It is extremely risky behavior that puts everyone on the road in danger. There are different kinds of driver distractions:
Categories of Driver Distraction

Visual

Taking your eyes off the road

Manual

Taking your hands off the wheel

Cognitive

Thinking about anything other than driving
Texting requires all three types of distraction, making it one of the most dangerous of distracted driving behaviors.  However, this is not the only cause of distracted driving.  Other common distractions include: tending to kids or passengers in the back seat, eating, watching an event outside of the vehicle, interacting with passengers, unsecured pets, putting on makeup or grooming, adjusting radio or climate controls, checking your GPS app or system and even daydreaming.
To successfully avoid a crash, a driver must perceive a hazard, react and give the vehicle time to stop. Driver perception distance, or the distance a vehicle travels from the time a driver sees a hazard until the brain recognizes it, and reaction distance, the distance a car will continue to travel after seeing a hazard until the driver physically hits the brakes, dramatically affects a vehicle's stopping distance. Even a focused driver going 50 mph will travel nearly the length of a football field before coming to a complete stop.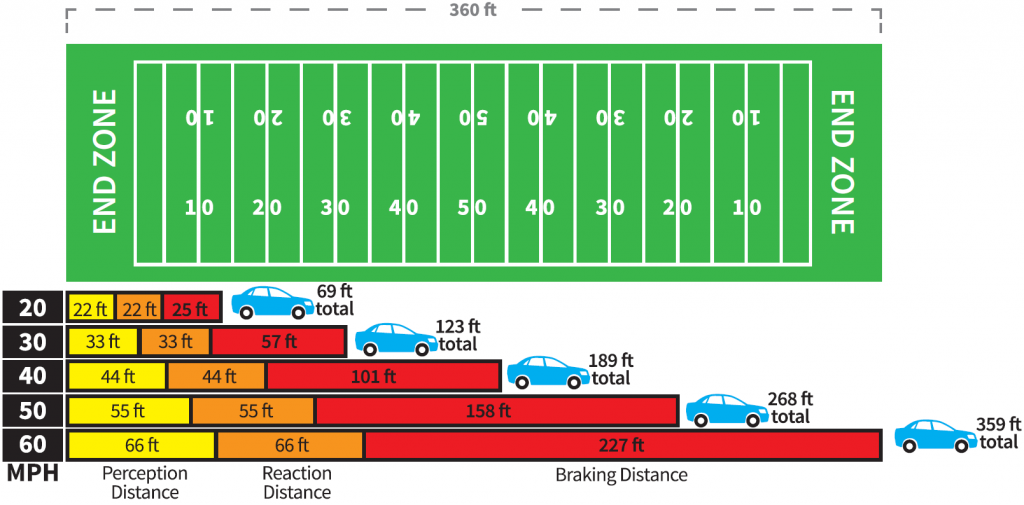 When a driver is not focused on the road, it limits their ability to come to a stop and avoid a crash.
The Florida Department of Highway Safety and Motor Vehicles and Florida Highway Patrol remind all drivers to keep your eyes on the road and Focus on Driving to ensure everyone can Arrive Alive!
Attorney Jason Weisser of Shuler, Halvorson, Weisser, Zoeller and Overbeck responded to distracted driving.  "In my many years as a Personal Injury Lawyer I've helped many victems that were injured because someone was distracted and crashed into their vehicles.  If you've been injured by someone because they were weren't paying attention to the road, please call me so I can help you get compensation for your damages."
Jason Weisser is a personal injury attorney specializing in all types auto and motorcycle accidents.  For more information and to find out what rights you have contact him at Shuler, Halvorson, Weisser, Zoeller and Overbeck.  He is Board Certified by the Florida Bar as a Civil Trial Lawyer.  Mr. Weisser is actively involved in Civil Trial Litigation specializing in wrongful death from Traffic Accidents.  He also is an expert on Medical Malpractice, Class Action litigation, Trucking Accidents, Maritime Actions, Products Liability, Consumer Law and Motor Vehicle Accidents. https://www.shw-law.com/attorneys/jason-d-weisser/