On the Florida Turnpike, three people are dead after a stolen car gone airborne and crashes into a tollbooth.   Matthew F. Bryan, 17, and Kevin F. Bryan, 18, both of Miramar; and Yostein L. Martinez, 18, of Hialeah Gardens.   Cesar O. Pina, 19, of Opa Locka, is still in critical condition at Broward Health North hospital.
The stolen car was likely speeding along the Turnpike south of McNab Road in Broward County on Tuesday when the crash occurred.  Three are now dead and one is still in critical condition.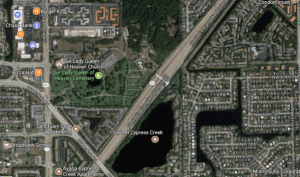 The four men in the car were thrown out from the vehicle; one man landed on top of the  toll booth.
"One of the occupants ended up in the northbound through lanes, one ended up on the roof, and two other ones ended up outside the vehicle," Florida Highway Patrol spokesman Sgt. Mark Wysocky told Miami Herald.
The worker in the tollbooth was not hit by the car and was not injured in any way.
Attorney Jason Weisser of Shuler, Halvorson, Weisser, Zoeller and Overbeck responded about the crash.  "This is a tragic crash and our sympathy for the family of those that have died in this terrible crash.   Please always use good judgement and realize that just one night of joy riding in a stolen car can result in your or someone else dying.  When you are asked to get involved in this situation - just say no".
Jason Weisser is a personal injury attorney specializing in all types auto and motorcycle accidents.  For more information and to find out what rights you have contact him at Shuler, Halvorson, Weisser, Zoeller and Overbeck.  He is Board Certified by the Florida Bar as a Civil Trial Lawyer.  Mr. Weisser is actively involved in Civil Trial Litigation specializing in wrongful death from Traffic Accidents.  He also is an expert on Medical Malpractice, Class Action litigation, Trucking Accidents, Maritime Actions, Products Liability, Consumer Law and Motor Vehicle Accidents. https://www.shw-law.com/attorneys/jason-d-weisser/