Fatal Crash on Lantana Bridge.  Late night accident proves fatal to fisherman.
Friday, October 6, 2017:  A Mercedes driven by Mark Hirst of Palm Beach, Florida was traveling eastbound on East Ocean Avenue at the Intercoastal Waterway Bridge (ICW). David Bartolino, 46, was located on the north side of the (ICW) Bridge. The male pedestrian attempted to cross the lanes of East Ocean Avenue from north to south. The Mercedes struck the pedestrian with its left front. The male pedestrian was thrown in an easterly direction coming to final rest on the westbound lane of East Ocean Avenue.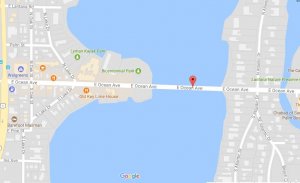 The male pedestrian, who was fishing at the time of the incident, succumbed to his injuries on scene. The Mercedes came to final rest on the east side of the bridge of East Ocean Avenue. Charges are pending, due to the ongoing investigation.  Alcohol may have been involved in this situation from either the driver or the passenger.
The bridge was closed for 4 hours and eventually one lane was opened to allow cars to go around the scene and cross the bridge.
Attorney Jason Weisser of Shuler, Halvorson, Weisser, Zoeller and Overbeck responded about the crash.  "The unfortunate accidnet shows how important it is for drivers to be aware of all pedestrians.  It is especially important to be careful when driving in an area where there are pedestrians crossing roads in tight areas like on a bridge."
Jason Weisser is a personal injury attorney specializing in all types auto and motorcycle accidents.  For more information and to find out what rights you have contact him at Shuler, Halvorson, Weisser, Zoeller and Overbeck.  He is Board Certified by the Florida Bar as a Civil Trial Lawyer.  Mr. Weisser is actively involved in Civil Trial Litigation specializing in wrongful death from Traffic Accidents.  He also is an expert on Medical Malpractice, Class Action litigation, Trucking Accidents, Maritime Actions, Products Liability, Consumer Law and Motor Vehicle Accidents. https://www.shw-law.com/attorneys/jason-d-weisser/