After there is a CRASH and the vehicles are on the side of the road, move over from the lane closest to the wrecked cars.
Florida law requires you to Move Over a lane — when you can safely do so — for stopped law enforcement, emergency, sanitation, utility service vehicles and tow trucks or wreckers.
If you can't move over — or when on a two-lane road — slow to a speed that is 20 mph less than the posted speed limit.
Slow down to 5 mph when the posted speed limit is 20 mph or less.
When you fail to Move Over, you put yourself and others at risk; you could crash into a vehicle or worker.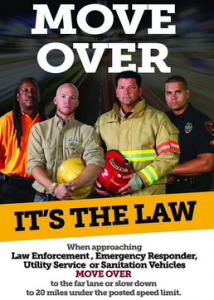 Violating the Move Over law will result in a fine, fees, and points on your driving record.  For more information, see section 316.126, Florida Statutes.
Attorney Jason Weisser of Shuler, Halvorson, Weisser, Zoeller and Overbeck wants to you to be aware of and to keep our first responders to the scene safe.  "If you see an accident up ahead on the road, as soon is its safe, move over to the lanes away from the accident.  This and distracted driver are two important issues that we all must pay attention to."
Jason Weisser is a personal injury attorney specializing in all types auto and motorcycle accidents.  For more information and to find out what rights you have, contact him at Shuler, Halvorson, Weisser, Zoeller and Overbeck.  He is Board Certified by the Florida Bar as a Civil Trial Lawyer.  Mr. Weisser is actively involved in Civil Trial Litigation specializing in wrongful death from Traffic Accidents.  He also is an expert on Medical Malpractice, Class Action litigation, Trucking Accidents, Maritime Actions, Products Liability, Consumer Law and Motor Vehicle Accidents. https://www.shw-law.com/attorneys/jason-d-weisser/