Two Car Accident between a blue Mitsubishi Sport Utility Vehicle  and Blue Hyundai leaves Jon A. Markee dead and Velicia Metayer-Noel critically injured.
Friday, October 20, 2017:  Late Thursday night the Jupiter Police Department was called to the scene of an accident on southbound Alternate A1A just south of Frederick Small Road.  They found a crash that involved two vehicles. A investigation has determined that a vehicle was traveling southbound on Alternate A1A in the middle lane. A second vehicle traveling in the same lane approached from behind and rear ended the first vehicle. The driver of the second vehicle was pronounced deceased at the scene. The driver of the first vehicle was flown to St. Mary's via the Palm Beach County Fire Rescue Trauma Hawk for critical injuries.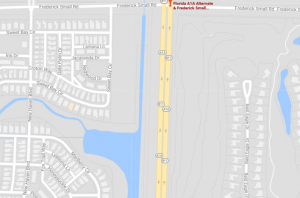 The two vehicles involved in the crash were a blue four-door Hyundai that rear-ended a blue Mitsubishi SUV.  Palm Beach Fire Rescue along with the Jupiter Police Department worked the scene of the accident with injuries.
The Hyundai driver, Jon A. Markee, was pronounced dead at the scene, police said.
Velicia Metayer-Noel, a 47-year old woman, was driving the Mitsubishi SUV at the time of the crash and she was air lifted to St. Mary's Medical Center in West Palm Beach.
Attorney Jason Weisser of Shuler, Halvorson, Weisser, Zoeller and Overbeck responded about the crash.  "It is a tragedy to lose a life in an auto accident.  Please do not follower too closely to any cars in front of you when you are behind the wheel of a car, truck or SUV.   If you were involved in an accident please contact my office for a free consultation".
Jason Weisser is a personal injury attorney specializing in all types auto and motorcycle accidents.  For more information and to find out what rights you have contact him at Shuler, Halvorson, Weisser, Zoeller and Overbeck.  He is Board Certified by the Florida Bar as a Civil Trial Lawyer.  Mr. Weisser is actively involved in Civil Trial Litigation specializing in wrongful death from Traffic Accidents.  He also is an expert on Medical Malpractice, Class Action litigation, Trucking Accidents, Maritime Actions, Products Liability, Consumer Law and Motor Vehicle Accidents. https://www.shw-law.com/attorneys/jason-d-weisser/