Jason Weisser, Personal Injury Attorney, comments on this busy intersection.
Tuesday, October 3, 2017:   Two car auto accident at the corner of Prosperity Farms Road and Northlake Blvd.  The crash occurred when a white Honda mini-van pulled out in front of a dark blue Lexus at the stop light.  The driver of the Honda failed to stop at the red light.  There were three adults that have serious injuries and were taken to St. Mary's Medical Center.
Palm Beach Gardens Police responded to the crash to help direct traffic.  If at all possible, take an alternate route which would PGA Blvd and US Highway One.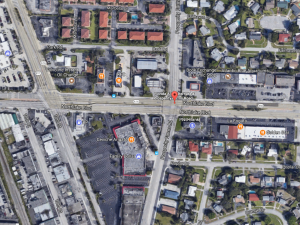 This is a very busy intersection because in north Palm Beach County.  There have been numerous accidents at this intersection including one traffic fatality on July 17th.
Attorney Jason Weisser of Shuler, Halvorson, Weisser, Zoeller and Overbeck responded about the crash.  "Many accidents happen as drivers commute throughout north Palm Beach County.  People can easily be distracted when driving in these situations.  Please be careful whenever you are behind the wheel of a car, truck or motorcycle".
Jason Weisser is a personal injury attorney specializing in all types auto and motorcycle accidents.  For more information and to find out what rights you have contact him at Shuler, Halvorson, Weisser, Zoeller and Overbeck.  He is Board Certified by the Florida Bar as a Civil Trial Lawyer.  Mr. Weisser is actively involved in Civil Trial Litigation specializing in wrongful death from Traffic Accidents.  He also is an expert on Medical Malpractice, Class Action litigation, Trucking Accidents, Maritime Actions, Products Liability, Consumer Law and Motor Vehicle Accidents. https://www.shw-law.com/attorneys/jason-d-weisser/