Three motorists were injured in a two-vehicle crash in Port St. Lucie.  One of the vehicles caught fire and it took bystanders to pull driver out of the burning car.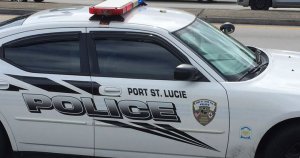 Port St. Lucie Fire Rescue went to the crash located at Southwest Port St. Lucie Boulevard and Southwest Tunis Avenue.
"Five citizens in the area at the time of the crash jumped into action to secure the scene and pull one person from a vehicle before it burst into flames," the agency stated in a Facebook post.
A Chevrolet Colorado and a white van crashed, injuring both drivers and a second person in the white van, according to information from Brenda Stokes, Fire District spokeswoman, and Sgt. Robert Vega, Port St. Lucie police spokesman. All three who were injured are men.
One of those who helped was David Streeter, an off-duty St. Lucie County Sheriff's deputy who works at the jail. Streeter, 50, said he was on his way to Publix and noticed the crash.
He said a second person, a nurse, was assessing the injuries of the pickup driver, and he noticed smoke and fluid coming from the pickup.
"Both her (the nurse) and I were inside the vehicle checking out the gentleman and the smoke turned into fire," Streeter said.
They decided to remove the driver, and along with two others, they carried the man from the truck.
Attorney Jason Weisser of Shuler, Halvorson, Weisser, Zoeller and Overbeck responded about the crash.  "Accidents can happen at anytime when driving a car, truck or SUV.   You can be safe if you pay attention to the rules of the road and make sure you aren't distracted by smart phones, passengers, navigation systems, radios and eating food.  If you have been in an accident and want to discussed what your rights are, please contact my office for a free consultation".
Jason Weisser is a personal injury attorney specializing in all types auto and motorcycle accidents.  For more information and to find out what rights you have contact him at Shuler, Halvorson, Weisser, Zoeller and Overbeck.  He is Board Certified by the Florida Bar as a Civil Trial Lawyer.  Mr. Weisser is actively involved in Civil Trial Litigation specializing in wrongful death from Traffic Accidents.  He also is an expert on Medical Malpractice, Class Action litigation, Trucking Accidents, Maritime Actions, Products Liability, Consumer Law and Motor Vehicle Accidents. https://www.shw-law.com/attorneys/jason-d-weisser/