The Turnpike Extension between Miami-Dade and Broward is shut down because of a serious accident.  Personal Injury Attorney comments.
Tuesday, October 10, 2017:  Those that normally travel this route are being advised to seek an alternate route as multiple crashes have brought traffic to a standstill.  The accidents have cars scattered around the road, Florida Highway Patrol on the scene and numerous injuries.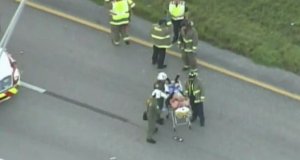 The troubles started early Tuesday when a rollover crash of a dump truck near the southbound intersection with I-75 caused officials to close the Turnpike at NW 57th Avenue, causing delays back to NW 27th Avenue.
Police say several drivers attempted to get off the road by crossing over into the northbound lanes, causing chain reaction crashes that caused multiple lanes to be closed in both directions for a period of time.
Another crash involved four cars, sending one person to the hospital with minor injuries and another person having to be airlifted as a trauma alert. A second crash involved seven vehicles, including a gas tanker, in which two people were taken to the hospital with minor injuries.
Attorney Jason Weisser of Shuler, Halvorson, Weisser, Zoeller and Overbeck responded about the crash.  " This series of unfortunate accidents could have been avoided if drivers were paying attention and allowing police and rescue personnel to perform their jobs.  This is one of the most traveled roads in the state of Florida.  Please us extra caution in this area. ".
Jason Weisser is a personal injury attorney specializing in all types auto and motorcycle accidents.  For more information and to find out what rights you have contact him at Shuler, Halvorson, Weisser, Zoeller and Overbeck.  He is Board Certified by the Florida Bar as a Civil Trial Lawyer.  Mr. Weisser is actively involved in Civil Trial Litigation specializing in wrongful death from Traffic Accidents.  He also is an expert on Medical Malpractice, Class Action litigation, Trucking Accidents, Maritime Actions, Products Liability, Consumer Law and Motor Vehicle Accidents. https://www.shw-law.com/attorneys/jason-d-weisser/