Jason Weisser, Personal Injury Attorney, comments on this busy intersection
Friday, September 29, 2017:   Expect long delays from auto accident in Martin County with two injured.  The accident occurred at the corner of Kanner Highway and South West Lost River Road.  The vehicles involved were a dark red Hyundai and dark silver Ford pickup truck.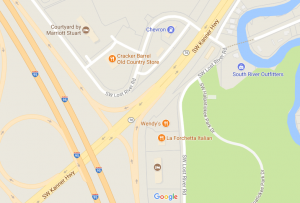 Martin County Sheriff's deputies responded to this crash and helped direct traffic.  If at all possible take an alternate route which would include Martin Highway for traveling east and west.  For those trying to travel north if you are in the east part of the county please use US Highway 1.
This is a very busy intersection because of all of the commuter traffic coming off of I-95 and the east/west traffic going through Martin County.  It is an especially busy intersection in the late afternoon because of the restaurants located there:  Cracker Barrel, Wendy's, and La Forchetta.  This is also the intersection that has the Courtyard by Marriott to the north and the Holiday Express Stuart to the south.
Attorney Jason Weisser of Shuler, Halvorson, Weisser, Zoeller and Overbeck responded about the crash.  "Many accidents happen as drivers exit off of our major highways.  People can easily be distracted when driving in these situations.  Please be careful whenever you are behind the wheel of a car, truck or motorcycle".
Jason Weisser is a personal injury attorney specializing in all types auto and motorcycle accidents.  For more information and to find out what rights you have contact him at Shuler, Halvorson, Weisser, Zoeller and Overbeck.  He is Board Certified by the Florida Bar as a Civil Trial Lawyer.  Mr. Weisser is actively involved in Civil Trial Litigation specializing in wrongful death from Traffic Accidents.  He also is an expert on Medical Malpractice, Class Action litigation, Trucking Accidents, Maritime Actions, Products Liability, Consumer Law and Motor Vehicle Accidents. https://www.shw-law.com/attorneys/jason-d-weisser/