Two Lanes Blocked on the Southbound lane of Interstate at at Blue Heron Blvd.
Monday, October 2, 2017:   If you are traveling south on Interstate 95 through Palm Beach County be aware of a vehicle fire at Blue Heron Blvd.  Two left lanes are blocked at Blue Heron Blvd. and traffic has backed up for over two miles.   Florida Highway patrol is on the scene of this accident along with first responder medical personal to treat the injured.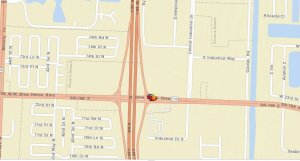 Attorney Jason Weisser of Shuler, Halvorson, Weisser, Zoeller and Overbeck responded about the crash.
"If you are involved in a motor vehicle accident, especially when it was not your fault, you should seek legal council to find out what rights you have.  I've helped 100's of accident victims and their families through this difficult process and would like to help you."
Elsewhere in Palm Beach County, the Palm Beach Sheriff's Office Put out an alert for a Car Creeper WANTED for rummaging through unlocked vehicles in a high end unincorporated Delray Beach community.
An unknown suspect has been wondering around the Saturnia Isles development pulling on door handles of car vehicles.  Once inside this creeper takes anything of value.
The suspect was wearing a hooded jacket and carrying a back pack.
Jason Weisser is a personal injury attorney specializing in all types auto and motorcycle accidents and other injuries.  For more information and to find out what rights you have contact him at Shuler, Halvorson, Weisser, Zoeller and Overbeck.  He is Board Certified by the Florida Bar as a Civil Trial Lawyer.  Mr. Weisser is actively involved in Civil Trial Litigation specializing in wrongful death from Traffic Accidents.  He also is an expert on Medical Malpractice, Class Action litigation, Trucking Accidents, Maritime Actions, Products Liability, Consumer Law and Motor Vehicle Accidents. https://www.shw-law.com/attorneys/jason-d-weisser/