It has been reported by Miami-Dade Fire Rescue that two adults were seriously hurt.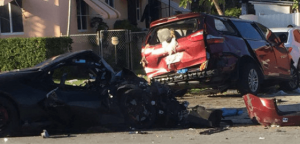 The crash occurred in a residential neighborhood with a maximum speed limit of 40 miles per hour.  Miami-Dade Police have yet to determined what caused this accident.
Both the Lamborghini and the Toyota received extensive damage.  The damage to the Lamborghini was all in the front of this mid-engine car.  The damage the Toyota Minivan to was to the rear and side of the vehicle.
The crash occurred  in the middle of the 1100 block of Northwest 135th Street.   Miami-Dade Police have this street shut down as they are investigating.  All drivers are encourged to avoid this street by taking Opa-Locka Boulevard or Northwest 134th Street.  These will be faster routes and will not impact the investigation.
Attorney Jason Weisser of Schuler, Halvorson, Weisser, Zoeller and Overbeck comments on this accident two injured:  "This is a serious accident that unfortunately had resulted with two injured.  If you've been injured in an accident, make sure you are properly represented by an experienced trial accident attorney."